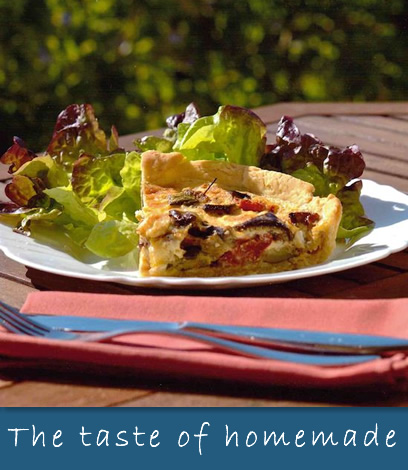 Testimonials
"We would like to thank you for the excellent refreshments you provided for my husband's funeral. So many people commented on the quality and flavour of your food, I particularly liked the scones and cream, and the superb sandwiches."
Sally Jarman, Funeral Catering, Winchester, February 2017


"I am writing today to thank you for everything on Friday. The food was great and people particularly enjoyed the soup on a cold day! Your ginger cake is delicious."
Julia Edwards, Funeral Catering, Winchester, February 2017


"The fish pie was delicious thank you and the chocolate cake was a huge success. We managed to put the remainder in a box for Pip to take back to her friends at university!"
Adrianne Montgomery, Lunch Catering, Collection Service, January 2017


"Thank you so much for the food today it was fantastic, and a great Gluten free selection."
Susan Ramage, Corporate Catering, Eastleigh, January 2017


"Thank you very much for a splendid buffet. People were very appreciative at the time. My grandson demolished the entire carrot cake single handed and we were so grateful that you provided him with dairy free options. Best wishes and thanks from all the family"
Sheila Sadler, Funeral Catering, Winchester, January 2017


"We would like to thank you very much indeed for all the hard work you put in yesterday in order to contribute to David's party. Everyone was very impressed with the delicious food . I suspect that you may have one or two new clients at some point!!!"
Veronica Barnett, Buffet Lunch, Oliver's Battery, January 2017


"The food was excellent and your professionalism from start to finish was greatly appreciated. Thank you."
Tim Conchie, Funeral Catering, Weeke, December 2016


"The party on Sunday went very well - everyone enjoyed the canapés and your friendly staff looked after us extremely well. All much appreciated - many thanks."
Sue Lucas, Birthday Party Catering, Portchester, December 2016


"Although a sad day it was a very good one too. Your food was fantastic and gained many compliments. Thank you for making Dad's day so special."
Julia Ferguson, Funeral Catering, East Stratton, October 2016


"We had an amazing day yesterday topped off with the wonderful food that you provided. It was so lovely and I had a lot of comments asking who had prepared the food for us. I can't thank you enough for providing such amazing quality and selection of food for my little boys christening."
Vicky Donovan, Christening Party Catering, Old Alresford, September 2016


"Thank you so much for your delicious food and for your charming and attentive service. So many guests have commented on your excellence."
Lynda Gent, Dinner and Party Catering, Upper Clatford, August 2016


"Just wanted to say a huge thank you for the canapés and the quiche for the party. Both were amazing again and we had so many compliments on them. Several people had remembered how good they were from Jons party a couple of years ago. The quiche was also delicious!"
Pippa Gilby, Party Catering, Whitchurch, July 2016


"Very many thanks for all you did yesterday - in such a calm and confidence-inspiring way - and for your excellent canapés. Already there have been several compliments about them. They were just right - interesting, delicious and in just the right quantity."
Caroline Normand, Canapés Party Catering, Winchester July 2016


"I have been meaning to thank you so much for all your team's really hard work that night. Lot of compliment and appreciation and I simply couldn't have done it without you."
Harriet Marsh, Canapes Party Catering, Warnford, June 2016


"Just wanted to say how delicious the food was that you prepared for our lunch yesterday. It was all so flavoursome and beautifully presented. How did you make that beautiful pork terrine? We enjoyed it very much and it was a pleasant distraction from the torrential downpours! Thank you so much."
Juliet Winsor, Ascot Lunch Hamper, Micheldever, June 2016


"I would like to express our thanks from all at Hampshire Fare HQ for your involvement at this year's VIP/Press launch of the Hampshire Food Festival 2016. Your canapés were an absolute delight."
Tracy Nash, Corporate Catering, Rownhams, June 2016


"Thank you Elizabeth so very much for your delicious food, all beautifully presented and brought by a smiling you."
Tiggy Mason, Food delivery to holiday cottage, June 2016


"Many thanks for creating the 3 amuse-bouche for my talk at the Fleet food festival last weekend. They went down really well and the feedback for the quality and taste was uniformly positive."
Paul Bowler, Corporate Catering, Winchester, June 2016


"I'd just like to send a very big 'thank you' to you for Saturday evening, we all enjoyed your delicious meal. My daughter was over the moon with the lovely surprise. The food, presentation and service was first class and thoroughly enjoyed by all."
Tina Chatting, Birthday Dinner, Romsey, June 2016


"Thank you so much for everything on Saturday everyone commented on how good the food was and you coped in a strange environment without the slightest hiccup, I take my hat of to you! Mum thoroughly enjoyed her day, so thank you both very much indeed."
Jane Cuming, Birthday Buffet Lunch, Houghton, May 2016


"We can't thank you and all your staff enough for catering for us at our wedding! The food was so delicious! We had so many positive comments about it, one guest (who has been to a lot of weddings) said it was the best wedding food she has ever had! Thank you much for being a pleasure to plan with up to and during the wedding."
Rachel and Oliver, Wedding Catering, Soberton, May 2016


"Thank you for the wonderful job you did at my mother's recent wake. We were very impressed with the service you provided and the quality of the catering. So many people commented on your amazing sausage rolls. Thank you for helping to make a difficult occasion go well."
Kate Prince and Family, Funeral Catering, Botley, March 2016


"Elizabeth, thank you so much for all your hard work on Saturday!!!! The food was absolutely perfect and everybody said how delicious it all was! You were so great in all our hecticness! We will definitely have to eat your yummy food again xxxxx"
Tyga Helme, Birthday Party, Colingbourne Ducis, July 2015


"Hi you wonderful person, please can I reiterate Tyga's testimonial. You were great and all went so well. Please pass thanks and so much appreciation to your team... Your food was delicious and perfect."
The Hon. Mirabel Helme, Birthday Party, Collingbourne Ducis, July 2015


"We would like to thank you for your excellent assistance during our party celebrations and the lovely food you provided. Thank you for your unobtrusive but so effective management of the arrangements during the party, it made a big difference, all was spot on."
Tim Harrison, Birthday Party, Winchester, July 2015


"Thank you so much for catering our party. We made a great choice - we've had so many positive comments about the wonderful food and we wouldn't hesitate to recommend you to anyone."
Noelle Moysi, Wedding Party, Overton, June 2015


"Last Saturday went so quickly and we saw so many friends from all over the country, I am now worrying that I didn't have time to talk to everyone! One thing is for certain though, everyone said how brilliant the catering was, so please take plenty of pats on the back and thank your staff too."
Margaret and Peter Gregory, Golden Wedding Party, Bentworth, June 2015


"Thank you Elizabeth for the excellent food you provided for our Diamond Wedding Anniversary party. It was all, without exception, absolutely delicious and plentiful. The guests were very impressed and many asked who the caterers were. We would highly recommend you and would certainly hire you again."
Mary and Peter Collins, High Tea, Basingstoke, May 2015


"Thank you so much for a really delicious meal last night. How you manage to feed so many people so calmly fills me with admiration."
Christine Finch, Evening Meal, Micheldever, May 2015


"My housewarming went very well thank you and the food was brilliant – everyone very much enjoyed it. I won't hesitate to recommend you or to use you again personally."
Lorraine Titcombe, House Warming Party, Kingsclere, March 2015


"Thank you for providing such a wonderful service and delicious food for us last week. There were many compliments about you and the food. We will not hesitate to use your services again in the future and of course recommend you when the opportunity arises."
Jenny Jackson, Memorial Service, Bishop Sutton. March 2015


"Thanks to you and your team for superb food and service, you helped to ensure an excellent evening, enjoyed by my quests."
Murray Dixon, Three Course Dinner Service, Winchester, September 2014


"Your service was quite excellent and we are most grateful to you. It did much to make the occasion very memorable"
Sir Julian Paget, Memorial Service, Winchester, August 2014


"We just wanted to say a huge thank you for all of your hard work on our wedding day. We enjoyed the food immensely and have had many positive comments from our guests'
Stef and Tom Pope, Wedding Catering Service , Beaulieu, June 2014


"Your food was absolutely delicious, everyone commented most favourably on the range and quality. The chocolate brownies went down a treat with the children. A big thank you to your catering team who provided a smooth and efficient service.
Rachel Pollock, Birthday Party Catering, Ropley, May 2014


"Fantastic birthday cake for my daughters 10th birthday. Exactly as ordered and gluten free too. Thank you. "

Keeley Cousens, Birthday Cake, Winchester, March 2014.


"The whole catering service was very well organised. Elizabeth has an eye for detail, providing us with a splendid, bespoke hot and cold buffet on our special day. It all happened around us without a whisper of difficulty or fuss.
Demanding the highest of standards, Elizabeth and her team exceeded our expectations; whatever myself, my wife or guests asked, it was delivered; she is so organised and experienced, she turns the most complex task into the simplest of functions. "

Lee and Tracey Molyneux, Wedding Catering, Camberley, September 2013


"We were impressed by the quality of the food and the efficiency of the serving staff. Thank you for your help at a difficult time. "

Mary Townend, Funeral Catering, Winchester.  September 2013


"Thank you for providing such a wonderful finger buffet, all who cane were delighted with the goodies. I am still being asked at the bridge club for the name of the caterer."

Peter Jackson, Funeral Catering, Minehead. May 2013


"Thank you so much for baking two delicious birthday cakes, they were wonderful. I will be back again soon!"

Adrienne Montgomery, Celebration Cakes, Winchester. March 2013


"Thank you so much for all you did to make the occasion so enjoyable for me, family and guests. Superbly done"
Hugh Preston, Memorial Service, Basingstoke; December 2012


"The Feedback we've had on the food has been exceptional. Our guests were very impressed by the quality of the dishes you served, and we had many comments to the effect that it was the best food they had tasted at a large event, it was one of the highlights of the event. Providing catering and service to 400 diners at the same time was a challenge that you and your team rose to and achieved with a high level of professionalism."
Catherine Skinner, Fulflood's Charity Ball, Winchester; July 2012


"We wanted to thank you for the fantastic job you did catering for our wedding. The food was delicious and we have had many compliments on how good the cake and canapes were. Thank you for all that you did to make our special day so perfect."
Pippa & Jon, Wedding Service, Winchester; June 2012


"The food was absolutely delicious, and very plentiful. Thank you and your staff for all your efforts, helping to make our day so wonderful."
Bob & Alison Baker, Wedding Catering, Winchester; April 2012